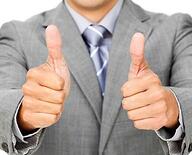 Modern intranets are so much more than just a place to access documents. These social platforms engage staff by allowing them to interact with content and post their own ideas and feedback. A great example of this is employee recognition. Recently we have seen some really creative uses of the intranet to recognize outstanding employees so I thought I would share them for others to consider.
First we have the traditional employee of the month/year type content. Having an area of the intranet dedicated to recognition is a great to way promote the accomplishments of your staff and educate your employees about your recognition program. You've probably spent a lot of time and effort putting together your recognition program so make sure your staff are aware of it. Be sure to highlight this area of the site by including a link from the homepage or doing a feature story on this topic from time to time. Take it a step further by creating an online form that staff can submit to nominate a co-worker. Replacing the paper based version of this process will streamline nominations and likely increase the number of nomination submissions.
Another recently popular idea is a thank you forum. This is an area of the site where staff can post a thank you and recognize an employee who may have gone above and beyond to help a employee or patient. This promotes a culture of appreciation and makes it easy for staff share this information. These have shown to be a lot fun while at the same time a great way to keep employees engaged. Blogs, forums, or electronic forms can be used to allow staff to post or share these thank yous.
Writing stories about your staff is another great way to recognize them. Topics can include personal accomplishments, employment milestones, or interesting hobbies. You can also highlight a day in the life of an employee and feature staff and jobs from different departments. Publishing stories about your staff on the intranet will make it a place for them to go and learn more about eachother and give them a more personal connection to the organization. At the same time, those featured will appreciate the recognition and feedback from their colleagues.
If your looking for more information about how to use your intranet to engage staff, check out our library of past webinars.