10 Best Practices for Writing Policies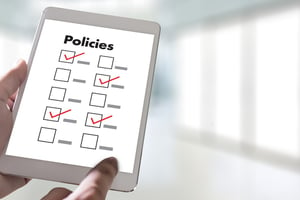 A healthcare policy is a mission critical component of any healthcare organization because it outlines a general plan of action to ensure a specific outcome is attained. The healthcare policy then serves as a general guideline with specific information to ensure that the right choices and decisions are enacted in real time. The main objective of the policy is to communicate specific procedures to employees so that cohesion in the workplace is guaranteed. Understanding the best practices for writing healthcare policies can assist each healthcare organization in writing effective, clear, and concise policies. Using a software automation tool like an Intranet with a built-in policy manager can be instrumental in your ability to manage and write better policies.
1. Research, planning, and revisions
The first consideration when writing a healthcare policy is researching, planning, and making revisions where necessary. Following these three steps guarantees that the healthcare policy will relay the needed information succinctly. When using a policy manager, you can easily subscribe to compliance staff forums or use collaboration tools during the research and planning phases and for when revisions need to be made. This ensures more accuracy and transparency during these initial stages.
2. Utilize policy manager built-in editing tools
When crafting a healthcare policy, it helps to make use of an automated software solution with built-in editing tools to eliminate editing errors or content duplication efforts. Most policy managers provide Microsoft Word plug-in editors to make policy editing simple and familiar. Using an online editor can help you streamline the editing tasks so you can be sure the approval process continues with ease and minimal disruption. Using these tools can eliminate much of the mistakes made when saving policies onto desktops, making edits and saving them back to your online policy shared drives or repositories.
3. Turning on track changes to follow all changes being made
By using an online policy manager, you can activate such features like Track Changes to monitor all edits from all parties that change the content of a document. You can see time stamps and the name of the staff member that made each change. When inputting your policy into your policy management portal, it is easy to see if any changes to the original policy have been made and if so, by whom. This helps to hold staff accountable while maintaining the integrity of the policy management document.
4. View collaboration notes for updates
A policy management portal allows for the use of collaboration notes that include messages for any needed changes to the policy. If another team member needs to make suggestions, collaboration notes can prove useful. These notes stay with the document and can be viewed at any time, even when referencing archived documents.
5. Utilize approval and revision workflows
When more than one team member is assisting with the creation of a policy, it is extremely useful to use the built-in software workflows to ensure the right changes will be made to your documents. By including other participants in the review, you can be sure the right edits will be made. Documents can only be published once workflow participants have put their stamp of approval on the final document review.
6. Create simple and concise policies
When creating a policy that will be used to communicate expectations to employees, it is of utmost importance to make sure that it is crafted in a simple, clear, and concise way. Keep policies simple, explanatory, and clearly worded for the best results. Most policy managers allow you to load standardized templates when creating new policies to be sure the information adheres to content or formatting guidelines.
7. Leverage policy forums
If you are stuck crafting a particular policy, it is more likely than not that another healthcare organization has managed to create a similar one. Many policy managers provide access to internal client forums for policy sharing. Make sure to leverage policy forums for guidance and advice when needed. Besides asking for a policy, another method is to share your policies with other fellow organizations and associations. This allows your healthcare organization to receive vital and critical feedback.
8. Utilize error checking tools
Even with built-in spell check found in most document generating programs, grammar and syntax errors can still go unnoticed. Make use of apps such as Grammarly and Hemingway to keep your policy error free. You can easily connect or integrate your policy management software to these for a more robust proofreading experience.
9. Use notice of acceptance, read acknowledgment or quizzes for comprehension
Some of the most important features of a policy automation tool that can aid in the distribution of policies are notice of acceptance, read acknowledgment and comprehension quizzes. After all of the hard work of creating and editing your policies and sending the documents through the workflows, it is imperative that your staff is aware of the newly changed policies. Sending around emails with policies is only so powerful. A policy manager will provide reports and statistics that show staff has read and understood the recently updated documents so if there is ever a compliance risk, you will have an audit trail for accountability. This type of awareness can be the difference between a good and a great healthcare organization.
10. Designate a policy administrator and a governance team
Lastly, it is important to be sure there is some level of governance set up for this entire process.
With a policy administrator, you will have someone who is a resident expert to maintain the policy and compile policy data. Having a set governance committee that is available to set the standards and guidelines for all staff to follow will eliminate confusion throughout the process.
By implementing these tips, your healthcare organization will be well on the way to having well written policies that ensure cohesion and compliance in the workplace.
HospitalPORTAL brings together physicians, board members, and employees by facilitating collaboration, effective internal communications and policy management workflow strategies. Learn more about our services by exploring the website today.