10 Great Healthcare-Related Articles From September 2017
With September recently behind us and Fall in full swing, we thought we'd round up some health-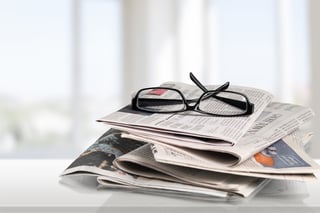 related articles we've read throughout September to share with you. Each story or blog presents information different from the next, from power poses to flu season to rural health. With each of these 10 articles focusing on different topics, we hope you can find something of interest to you!
Happy reading!
'Power Poses' Don't Actually Work. Try These Confidence-Boosting Strategies Instead
Just how powerful are power poses? Not very, as it turns out. Ever since a widely read study was published in Psychological Science in 2010 — which showed that taking a moment alone before an important meeting to assume one of two power poses can boost your self-confidence, and even change your hormone levels — power poses have become a self-help sensation…Read More
What Happens To Tattoo Ink After It's Injected Into Your Skin?
It takes a brave soul (in some cases, emboldened by a strong drink or two) to get a tattoo. And while people may spend time considering what design to have pierced onto their bodies, few may consider exactly what happens to the
ink once it is injected under their skin…Read More
Vision And Hearing Loss Are Tied To Cognitive Decline
Now and then I hear someone (myself included) proclaim "my brain is on overload." This is not surprising given the myriad complex tasks the brain performs, among them enabling you to learn, plan, remember, communicate, see, hear and smell…Read More
Biochemists Discover Mechanism That Helps Flu Viruses Evolve
The MIT team found that flu viruses' rapid evolution relies in part on their ability to hijack some of the cellular machinery of the infected host cell — specifically, a group of proteins called chaperones, which help other proteins fold into the correct shape. When the viruses were unable to get help from these chaperones, they did not evolve as rapidly as when they could obtain extensive help from host chaperones…Read More
Stopping Aspirin Treatment Raises Cardiovascular Risk By Over A Third
Researchers led by Johan Sundström, a professor of epidemiology at Uppsala University in Sweden, set out to examine the effect of stopping low-dose aspirin treatment on the odds of having a second heart attack or stroke…Read More
10 Stubborn Cybersecurity Myths, Busted
The state of healthcare cybersecurity is bad enough without a host of inaccurate information floating around the industry. Hackers honed in on healthcare's technology weaknesses in 2016, pummeling the industry with massive spear phishing campaigns and ransomware attacks. And 2017 has been even worse…Read More
Rural Hospitals Struggle To Stock Expensive Drugs That Could Save Lives
Hospital pharmacist Mandy Langston remembers when Lulabelle Berry arrived at the emergency center of Stone County Medical Center in Mountain View, Ark., last year. Berry couldn't talk. Her face was drooping on one side. Her eyes couldn't focus. "She was basically unresponsive," Langston recalls…Read More
6 Must-Try Autumn Tricks That Prevent Winter Weight Gain
No matter how awesome fall is – with its changing colors, crisp air and pumpkin-packed recipes – it's also a bittersweet reminder that winter is on its way. And with winter comes short, dark days, bitter temps and a nagging temptation to hibernate with a bowl of calorie-packed comfort foods…Read More
A New Hope For People With Fibromyalgia
In the randomized clinical trial, 230 adults with fibromyalgia received one of three treatments, each of which was presented for eight weekly sessions to small groups of patients. The new therapy, which Lumley and co-developer Howard Schubiner, M.D., director of the Mind Body Medicine Program at Providence Hospital, call Emotional Awareness and Expression Therapy (EAET)…Read More
For information on how HospitalPORTAL can work with your organization, schedule a free demo or request a quote.
Find this blog post helpful? Download the PDF version now to keep in your files and refer back to!