3 Lifesaver Uses of an Intranet – eGuide
Each department and task in the workplace comes with it's own set of challenges. Your Intranet serves as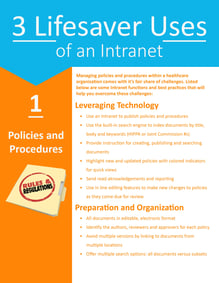 a versatile and efficient tool to overcome these challenges and help make your life a little bit easier. With the help of our eGuide, 3 Lifesaver Uses of an Intranet, you can learn about the best practices and functions while utilizing your Intranet.
This eGuide explains the best functions of an Intranet to use when it comes to policies and procedures management, human resources and emergency preparedness. We hope you find the information helpful!
You can download 3 Lifesaver Uses of an Intranet here.
For more useful Intranet and Policy Manager information, check out our Healthcare Resource Center.
For information on HospitalPORTAL products and how we can work with your organization, schedule a free demo or request a quote today.