3 Ways to get on the Same Page – Using Intranet to Engage Employees
Employee buy-in is often over looked or managed incorrectly
This may be the product of an already toxic work environment or possibly just a few bad apples are ruining it for the bunch. Sure, it's easy to manage employees if everyone's on the same page and everyone has the same goals. However, this is not usually the case. Having been on multiple training/implementation visits to hospitals varying in size from 20 beds to 200, I've noticed that this is a common problem across the board.
Employees or managers set in their old ways. "Debbie Downers". Unwillingness to embrace new technology/employees. And the list goes on – misery loves company, right? Wrong! It doesn't have to be this way. Don't let it get to this point, or if it already has, take note of a few quick and easy things you can do to quickly help turn things around using tools that are already at your disposal.
Regardless of hospital policy, employees will [want to] check up on their social media accounts. How can you use this instead of completely shut it out? Today, most hospitals, regardless of size, have realized that a central, internal, communication hub is absolutely necessary. A place where employees go to check up on their latest hospital updates, new policies and procedures, check on schedules, etc. What many hospitals may not realize is that, aside from the black and white work functionalities of their Intranet, it could be used to support employees in the grey area. This grey area is what will make your employees want to sign in and sign on. Offer department/hospital-wide contests. Post funny stories about other employees (with their approval, of course). Install a weather widget. Ask employees for their opinions and act on them.
Kudos Section – Spread the Good News
Who doesn't like to be recognized when they go above and beyond? Regardless of how significant it may seem, a good deed should always be recognized. Not only to give props to the individual who went above and beyond, but to also inspire others to do the same. The inspiration could be so they could get recognized themselves or just to make someone's day a little easier; but whatever the motivation, the goal is to encourage people to do the right thing. Most of today's intranets offer a forum or blog section.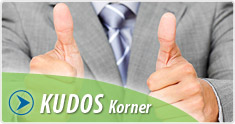 One of these components can be used specifically for Kudos. If EmployeeOne notices EmployeeTwo doing something note-worthy, EmployeeOne is encourage to share it with the group/rest of the employees.
I would suggest leaving this component open for all hospital employees to post and not just managers. There are a lot of little day-to-day things that don't make it up to management but are no less important to recognize! To take it one step further, once a month, management can pick out one Kudo's post and offer both the poster and the postee a small prize/gift. People love to be recognized and doing so will only lead to more good deeds!
Cafeteria Page and Surveys
In our experience, we find that the Cafeteria page on all of the Intranet Solutions we install is always the most popular page (next to the homepage). Everyone checks it and everyone has an opinion. Menu options, meal schedules, suggestion boxes, etc. They say the way to someone's heart is their stomach. Let's take that to heart.
When we're on our training and implementation visits and we start discussing the Cafeteria page, there is always a conversation that ensues about what people think about the cafeteria food. Everyone has an opinion. Why not give the employees a place to voice these opinions.
Utilizing a simple survey component on the Intranet's Cafeteria page is a great way to ask for suggestions/feedback/etc. on the cafeteria menu or food. People who are upset or have distaste for the cafeteria will feel better knowing that their opinion is going somewhere and they might actually make a difference. Understanding that employee gripes of this nature can sometimes be unjust, these simple surveys can be brushed off or taken to heart as need be. On the flip side, it would give the Cafeteria department a valuable source for insight as to how they can improve. The important thing to remember is that people want a voice; whether it's heard or not.