4 Key Tips to Simple and Effective Intranet Navigation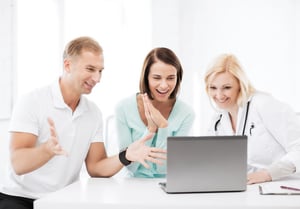 Effective Intranet navigation is a challenge that many organizations struggle with. Although they recognize the importance of having an Intranet to create a cohesive, central hub of communication, navigating it poses entirely new challenges. It is helpful to understand the best ways for you and your staff to navigate your Intranet to enhance productivity, increase communication, and to create seamless workflows across all departments.
The Importance of Intranet Navigation

Intranet navigation describes the way in which users access content on their centralized Intranet database. Intranet navigation is also referred to as information architecture and describes the way in which staff members will access information through the various pages available on the Intranet. If employees find themselves unable to access vital information or lost when navigating their company Intranet, there's no way that they will continue to use the system or be able to fully utilize the software to its highest capabilities. Below are four key tips to helping create a smooth navigation for your company's Intranet.

#1 – Create an effective navigation menu
Just like navigating an external website, navigating an Intranet effectively can be facilitated by creating a well thought out top menu of the most important information that users will need time and time again for their daily routines. Limit your top level menu items to about five to seven topics so you don't overwhelm your staff with too many options that they need to recall. When there are other pages that the user needs to get to and they want to return to the main 'homebase', the top navigation bar will prove to be instrumental in guiding them to their next destinations. When designing your Intranet, keeping this navigation tip top of mind will make your Intranet much more user-friendly and user adoption will increase tremendously.

# 2 – Organize your drop-down menus effectively

In addition to having the main navigation bar organized with your most important content, it is also essential to make getting to the other pages of the Intranet a simple process too. This can be facilitated by organizing the drop-down menu in a descriptive and concise way. Don't have drop down menus that are too lengthy. Use them to clean up a busy layout, but don't over crowd a drop down with too many sub-headings or this will just confuse your users.
# 3 – Have a search or browse function

Adding a search or browse function into your Intranet navigation design allows employees to access past information and content easily. This search should be found on the top of every page for easy access and the most optimal searchability. Users should be able to search by keywords, titles, document body content, blog posts, staff directories, company newsletters, company announcements, upcoming events, new policies, and other important information by entering a few letters into a search box. Make sure your search tool has advanced filtering to help condense search results so the user can get to their search term right away.
# 4 – Include a 'My Account' function

The fourth and one of the most important inclusions in your Intranet navigation strategy is to place a 'my account' function within the navigation. This area functions as a central hub of information where an employee can make changes to their own personal account details and information. Additionally, they can view a layout of all updates and events in one central location so they can view the most recent posts, connections made with fellow staff, recent searches, bookmarks or activities that they have made. This can be thought of as similar to any social media account where the user is able to access their main feed of information. This allows staff to take ownership of their activities making them want to continue using and accessing the Intranet as much as possible.
There is no doubt about the importance of creating a smooth flow of navigation when designing and building an Intranet. Prior to designing and deploying your Intranet, it helps to keep these points in mind to ensure that employees and staff can access useful information and use the Intranet to its maximum potential.
At HospitalPORTAL, we provide access to an innovative Intranet platform that is cohesively designed for ease of use. Browse our website to learn more about what our software can do for your hospital or medical establishment.