4 Ways to Promote Your Hospital Intranet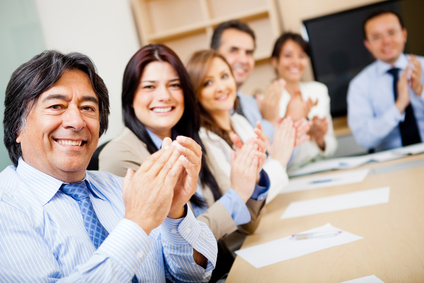 Implementing a new intranet can be an exciting project and can really have a positive impact on all staff within your organization. We get a lot of questions during implementations about how to promote the new intranet to staff. There are typically two types of implementations, the first being those hospitals that are implementing an intranet for the first time. These hospitals struggle with changing the culture and getting staff used to self service and locating information in a central web based system. The second type are those hospitals that have an existing intranet, however staff have a negative view of the system due to outdated content, lack of searchability, etc. For these hospitals the challenge will be luring staff back to an intranet system. Either way these great ideas will help you to engage staff and promote your new intranet implementation:
1. Contests
Who doesn't love a little competition? Contests can be a great way to create awareness and engage staff. One of the things we have seen work well is an "Intranet Naming Contest". The idea here is that rather than calling the system "the intranet" you can brand it with something more exciting and meaningful to your organization. Have staff submit their ideas via the intranet with an electronic form. Choose the top few names you like the best and then let them vote on the names via the intranet. Have a prize for the person who's intranet name is ultimately chosen then incorporate the name in the graphics for the site. A few samples ideas would be "The Pulse", "The Hospital Connection", or "CMHC Net".
Another idea is a photo contest. Have staff submit photos via the intranet. Choose winners yourself or have a voting process in place. Be sure to give staff recognition for their winning submission by posting them on the intranet.
One last contest that can be a lot of fun is a scavenger hunt. Not only does this get staff engaged, but this can also familiarize them with the new system by encouraging searches and site navigation. Choose a list of items on the new system you want to highlight and give staff clues about how to locate them. Have them submit their results and have prizes those who return them the fastest or have the most number of answers correct.
2. Photos and Video
Photo and video tend to attract more attention than just text. Use this to your advantage for promoting your intranet. Most times you will have some sort of mockup of your new site prior to launch. Use this mockup to promote the system by including it in your newsletter, posting it on your current intranet, or other places staff go for information. Talk about the new features and things staff can look forward to. Get started early with this so by the time the go live date arrives staff will be excited to see the new system.
If you have someone with video expertise, create a quick highlight video promoting the new system. Incorporate screenshots of functionality and have project staff discuss the project.
3. Demonstration
Demonstrating your new system will get staff excited about whats coming. Start out by demoing at a leadership meeting for directors and managers. Show off the new features snd functionality and how this tool will impact each department. This can be done prior to go live and is also a great opportunity for getting feedback.
Once the system is live, have a link on the homepage for staff to take a self guided tour. Have links to key areas of the site and explain how they are used. This is another opportunity to incorporate photos and video. Having the self guided tour in place can be helpful going forward for onboarding new staff and getting them oriented with the intranet. Many hospitals include an overview of the intranet as part of new employee orientation so consider this as well.
4. Go live party
Once you chosen a go live date, generate a buzz about the system by promoting a party. Encourage staff to stop by offering ice cream or some other treat! Have kiosks setup and project staff on hand to demonstrate the system and show staff what's new.
We would love to hear about the ways you have successfully promoted your intranet or other system implementations, please share in the comments below. If your hospital communications are suffering because of an outdated or difficult to update intranet, check out some of the great of the box features of the HospitalPortal.net intranet solution by clicking the image below!