5 Reasons You Should Purchase a Healthcare Intranet vs. Build One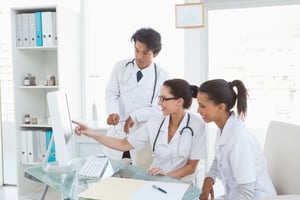 Your company's Intranet acts as the central communication hub and information repository for the entire organization. Such a critical component of your organization's infrastructure should be chosen with extreme care. As you decide on what type of Intranet to choose, you will ultimately be faced with the choice to buy a ready to deploy Intranet software, build an Intranet from the ground up, or add to your existing homegrown or SharePoint system. By exploring these 5 reasons why you should buy a ready-made Intranet, you can determine whether or not this is the best option for your hospital.
Reason 1 – Out-of-the-box functionality
If your hospital is looking for more healthcare-specific Intranet features or workflow tools to manage your documents or policies better, then you should consider purchasing an out-of-the-box Intranet system. This option allows you to instantly take advantage of the immediate accessibility of the Intranet's many features and components. Your organization can avoid the long wait times of waiting for an IT department to construct an Intranet step-by-step. With a ready to deploy Intranet solution, you can have the speed and convenience of more hospital communication features right away. If you purchase an Intranet geared towards healthcare, you're already getting a proven solution that supports your organization's purpose.
Reason 2 – Delegate tasks to non-technical staff
If you want your Intranet to be self-managed or decentralized by in-house, non-technical staff, then a pre-built Intranet is likely to be the best option for you. A custom designed and built Intranet will require technical knowledge whenever any changes need to be made to the Intranet software. Whether you need to adjust the home screen navigation or add a tab, having the capability to perform these functions in-house is very advantageous.
Reason 3 – Affordability
Building proprietary software takes a great deal of time to complete successfully. Unless your organization has web-development staff on your workforce, hiring an Intranet developer requires a significant allocation of budgeted funds which can take from other core business functions. Once you add in the time for development, the cost can outweigh the benefits, especially if you're still not able to get all the functionality you desire. This is why having an out-of-the-box Intranet solution is a much more cost-effective solution.
Reason 4 – No dedicated IT department needed
Most Intranets available today offer hosted installation options so there's little to no stress on your current servers or need for additional staff to maintain the application. For installed systems, your software vendor will have packaged support services to assist with product issues, implementation, training and overall system performance and functionality. If your hospital doesn't have access to a 24-hour IT department, then a ready to deploy Intranet solution would be a better option.
Reason 5 – Faster ROI
In the event that your hospital has concerns about gaining a fast return on investment, then an out-of-the-box, pre-built Intranet option would be the best choice. With quarterly feature updates and new releases, your healthcare organization will always have the latest, cutting edge tools at your fingertips without having to custom code new features. A new system can also reinvigorate Intranet usage so you can increase the output of efforts by your hospital staff. A new system that contains more features can also eliminate the need for other applications that your hospital is paying for. With many new Intranet systems now, they contain policy management, contract management, emergency management and more; you can stop paying for multiple programs and just pay for one system that has all of these features all-in-one.
When creating an Intranet from scratch, your staff is responsible for data cleaning, organization, migration and other types of prep work. By purchasing a read-made Intranet solution, you will receive professional services as part of your purchase that will do this work for you decreasing the personnel cost needed for these efforts. In general, ready-to-deploy Intranet software tends to have a much faster return on investment than custom built Intranet solutions.
Ultimately your hospital will need to decide what type of functionality and features they are looking for an in Intranet. If speed, convenience, affordability, and support are of critical importance when selecting an Intranet, then a ready-made option will prove beneficial to your organization. With these five reasons to purchase a ready-made Intranet, you will be well on your way to choosing the best option for your hospital.
HospitalPORTAL is the single source solution for your hospital Intranet needs. Read through our website for more information and contact us to schedule a demo by calling us at (866) 580-7700 today.