A Tornado is coming. What does your hospital do?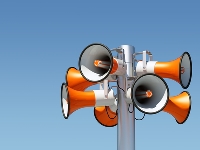 Last Sunday, November 17, was a very sad day for the state of Illinois as well as for other areas across the Midwest. The town of Washington, IL was pretty much leveled. As my family was glued to the TV trying to figure out what to do based on the ominous forecast, I couldn't help thinking of the hospitals that lied in the likely path of the enormous storm.
The radar showed a huge red cloud moving across the plains and across Illinois. More than once I heard it mentioned that there was a 9 out 10 chance tornadoes would soon be a reality in the storm's path. The big question was exactly where would it hit and what one could do. As my 7 year old began to cry, I explained that we were very fortunate that we have basement, so we would be safe.
What was on my mind as the meteorologists on TV continued to plead with their audience to go to a basement or to the lowest possible floor in a room with no windows is what would be happening to folks in hospitals and nursing homes with no basement and precious little space that fit the description of having no windows. How would that play out for even a non-critical patient stuck in an interior hallway for hours? What about critical patients who couldn't be moved to hallways? What about nursing home residents with constant medication needs and in some cases dementia? As I continued to watch and get emergency alerts on my mobile phone, I hoped the hospitals and nursing homes in the storm's path had a good Emergency Preparedness Plan and had even performed drills to practice exactly what to do under these circumstances.
After this sort of disaster scenario, hospitals, sometimes without the basic communication tools, must start to take stock of the situation. Did they dodge the eye of the storm? What about surrounding hospitals? What needs to be done to support other hospitals and areas that may not have been so fortunate and need aid? What are affected areas asking for in the way of help?
One of the many unfortunate cases that can arise is that well-intended volunteers aren't able to provide the help they would like to due to various policies, or worse yet, actually get in the way, albeit unintentionally, of organizations tasked with beginning recovery efforts.
In reflecting on this week's tornadoes in the Midwest, Jason Friesen, former health network executive and President of Health Data Solutions, shared with me some recollections of emergency preparedness and response activities at the Kansas hospitals he worked with. In the aftermath of one instance when the hospitals were blindsided by a blizzard that left critical physicians and clinical staff stuck at home, unable to get to the hospital where they were desperately needed, a list was compiled of staff with four wheel drive vehicles that could help get physicians to the hospital in such a situation. In another situation, a hospital lost power, then the generator's supply of natural gas was cut off, so they were left without any source of power.
Another topic I discussed with Jason was what a hospital can do when the communication methods we are so dependent upon fail. How do you mobilize and communicate when phone lines and cellular towers are down? In this case, Jason's voice of experience had a ready answer: HAM radio. Going along with the question of how to deal with communication needs is what are efficient ways to communicate with numerous state, local, and federal agencies along with non-government organizations such as American Red Cross. Infrequently used policies and procedures may need to be dusted off and accessed to ensure proper response.

Here again, the concept of responders assisting in the ways needed and following proper guidelines is a common challenge. Jason shared the example of several commercial planes that were forced to land in Garden City, KS on September 11, 2001, when all in-flight planes in US airspace were ordered to land. A well-intended leader in the area put the word out that the several hundred displaced travelers needed to be fed, so to please bring food to the airport as soon as possible. When area citizens did just that, they were turned away because the passengers were sequestered. Soon, American Red Cross was able to coordinate an impromptu mess hall where the passengers were fed, so the food did not go to waste. This story hopefully serves as a cautionary tale on how to help and doing due diligence before responding.
At HospitalPortal.net, we have learned from our clients that their intranets are often a critical method of communication with staff, volunteers, and referring physicians before, during, and after disasters occur. Some of the most common uses of the intranet we have seen are publishing the HEICS and supporting Job Action Sheets; publishing the Emergency Plan, campus maps and plans, and quick resources such as brief training videos for specialized emergency preparedness equipment. Also common is publishing RSS feeds and updates from FEMA, weather services, and other agencies. Documents such as the four wheel drive list Jason Friesen mentioned as well as updates on coordinated efforts can also be published. During disaster situations, many hospitals we work with also utilize the Scroller functionality to publish up-to-the-minute critical updates during the crisis.
Few would debate that the key to responding well to an emergency or disaster is preparation and putting critical mechanisms in place BEFORE the crisis arises. Click below to watch our recorded webinar featuring hospital safety author and expert, Dev Raheja. What has your hospital done that has worked well in Emergency Preparedness?Please share your successes so that others can learn from them as well.