Addressing 5 Organizational Pain Points with Your Portal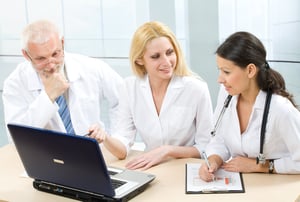 1) Need better/more efficient communication with staff
In most organizations, email is the primary way staff members communicate. One of the problems with this is that email can sometimes be unreliable with messages being automatically filed. There's also the issue of people not reading their emails, whether that's because of negligence or due to the sender not copying the correct individuals on the message. Your Intranet Portal can offer a cleaner, more cohesive, way to display information, messages, events, etc. Most of this communication can be displayed right on the homepage which can be set as the default homepage of your staff's computer. For many of our clients, the home page acts as the centralized place to find all hospital-wide information. With the HospitalPORTAL system, you can place staff in groups and assign those groups to different types of communications so you can minimize possible chances for error in distributing important information.
2) Staff can't find the resources they're looking for
It's time consuming for staff to search through old emails, folders, file cabinets, etc. to find the information they're looking for. And even if they eventually do find what they're looking for, it's often times hard to tell if that information is still current/relevant. This wasted time leads to unhappy staff and wasted productivity. With organizing information on your Intranet Portal, it'll be easier for staff to identify current vs. old communications because of date/time stamps, change log, etc. Also, with these communications being digital, it makes them easier to search for, share, manage, and access.
3) Poor employee engagement
This is very common in a lot of organizations and is sometimes the primary reason why they're looking for an Intranet system. In many organizations, the various departments are fairly siloed in their daily job functions and there isn't a lot of cross-departmental collaboration. This can often lead to a poor team culture which is detrimental to an organization's productivity. But because the Intranet serves as a central communication hub, it naturally unifies the happenings within the hospital. Internal marketing efforts will have a lot more impact if displayed on an internal website vs. as a random email in staffs' inboxes. Additionally, the information has staying power and can reaffirm important messages versus getting lost through email transmission.
4) Employee wellness needs improvement
There's been a big push in recent years for companies and organizations to implement employee wellness initiatives – especially with the increasing sensitivity to mental health. Although a lot of these organizations want to put emphasis on employee wellness, it can sometimes be hard to find the right avenue to market it. With an Intranet Portal, the tools and components available offer a lot of flexibility in promoting internal initiatives. You can post announcements and events prominently on the homepage. You can create custom pages dedicated to wellness. You can use survey or poll tools to track results of wellness activities and you can post results of fitness contests. Furthermore, you can easily reach out to staff to get ground level feedback through commenting features, forums, or just the overall open-communication that an Intranet Portal encourages.
5) Hard to teach old dogs new tricks
No matter the size of your organization, there are likely going to be some individuals that are just stuck in their old ways and resistant to change. Features like idea banks and forums are great Intranet tools to encourage management and staff communication exchanges. Since your Intranet has built in reports and analytics on user interaction, you can identify the staff that are actively and regularly engaging with the portal and in what capacity. This feedback makes it a lot easier to identify those progressive and proactive staff. With this data in hand, you can work with those proactive staff members to drive the necessary positive change within the organization or to work with those staff members to compensate for the "old dogs".
The HospitalPORTAL Intranet can assist you with your internal communications so you can engage with your staff in a more organized and efficient way. Check out our features by scheduling a personalized demo. We look forward to supporting your organization's communication efforts.