Best Features of the HospitalPortal Intranet for Your Marketing Department
Your Intranet provides streamlined solutions for internal communications and workflow for your leadership,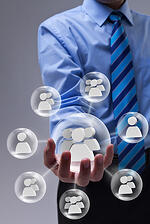 staff, and physicians. However, it is also extremely useful for your marketing department to relay their communication information to all departments highlighting their marketing activities, upcoming events, and sharing news and announcements. Here are some of HospialPortal.net's most useful Intranet features for your marketing department.
Content Management System
With a sophisticated search engine and content publishing tools, navigating and editing our Intranet is simple and intuitive. Marketing departments can assign staff to make edits to marketing pages, news and announcements. This allows all departments to communicate, collaborate and keep up to date with each other and hospital functions. Internal communications are important for your marketing department to understand and convey company culture and your organizations' brand.
Social Networking Tools
From blogs, RSS newsfeeds to forums, social networking tools allow marketing to share important hospital information and news within the portal. Additionally, they can curate or create other thoughtful health related articles to relay to staff.
Calendars and Schedules
Built in, easy-to-use calendars and schedules are important for staff to organize events, meetings, patient care, etc. Your marketing department can utilize these features to schedule when certain news will be released, know of upcoming events to promote, and overall maintain better collaboration with all departments on your marketing initiatives.
Newsletter
Link your newsletter to the Intranet! Devote a page specifically to store and house your online newsletter. Large images can be stored and accessed and comments can be enabled for engagement. Make this section a subscription-based news area so when it is updated, all staff is alerted to read it when ready. Easily expire any news item and archive past newsletters with a "read more, learn more about past newsletters" link.
Project collaboration
Employees have the ability to create work queues to work on marketing projects together, whether in the same department or among multiple departments. This is a helpful tool for marketing to collaborate with the appropriate departments pertaining to specific events and promotions for the hospital. Easily upload images or project files to a collaboration page and keep all correspondence organized around the topics or events.
Set effective and expiration dates for content
The ability to set when content will be published and when it will expire in advance puts less of a strain scheduling-wise for your marketing department. Since many marketing departments have the same set of staff responsible for external and internal communication, it's possible for content to fall through the cracks, whether by forgetting to put it up or take it down. Scheduling specific dates beforehand makes managing this information simpler and more organized.
Utilization measurement
Keep track of analytics, create custom reports and implement comments from the SQL database to get an idea of what's working and what's not working for your Intranet. Analyzing exactly how the Intranet is being used will allow you to tailor it based on its strengths and weaknesses. This ensures that your marketing department is communicating in a way that is most effective across all departments.
For information on HospitalPORTAL products and how we can work with your organization, schedule a free demo or request a quote today.