Ensure Your Organization Complies With Stark Law
Stark Law prohibits physicians from providing a referral to a patient to at least one other outside entity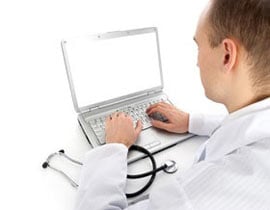 where the physician (or their family) has financial or compensation ties; therefore they might get money for the referral. This is to ensure that doctors are making referrals with the patient's best interest in mind.
There are some exceptions to this law, such as providing a referral within your own practice. Ensure that your physicians are kept up-to-date on this important law and its consequences and that they are made aware of any changes.
Earlier this year, CMS added more covered codes that fall under Stark Law. Those codes can be accessed here.
As a central hub of communication, your Intranet is a prime place to ensure that your physicians are complying with this law. A few ideas:
Keep a page dedicated to outlining what the law entails and its exceptions in simple terms on your Intranet for employees to refer to.
Send notifications to staff or update the newsfeed with any changes, information, or news articles about Stark law.
Keep track of referrals via the Intranet and double-check them to make sure each is done in an ethical way.
Make sure that legal staff is easily accessible and available should employees have questions.
Here are some resources to keep on-hand about Stark Law:
Stark Law: The Basics, Briefly Stated
For information on HospitalPORTAL products and how we can work with your organization, schedule a free demo or request a quote today.
Find this blog post helpful? Download the PDF version now to keep in your files and refer back to!