Event Recap: Healthcare Internet Conference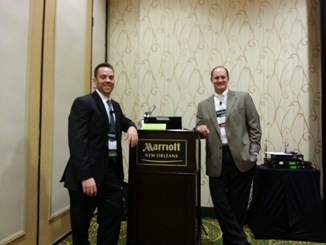 This year's Healthcare Internet Conference was, as always, chock full of good advice for healthcare's avid "webbies" for lack of a better word. Only at a conference as prolific as this one could a session track be named "SoLoMo" with no further explanation. Gotta love it!
Because I wasn't able to clone myself and attend every session, I will offer highlights of a few. However, HCIC's handy "Rewind" product, now in it's second year, is a great way to view the sessions you missed or take them back to share with your team. If I were to give this year's conference a theme, I would call it "Finetuning." The theme that seemed to me to emerge in the sessions I attended was that while the collective group of attendees has been consistently nailing it with all sorts of digital communication, the audience is always searching for that elusive sixth sigma so to speak, a way to make something great even better.
David Meerman Scott's General Session posed a powerful metaphor of creating content aimed at personas with the example of hotel websites. After comparing an impressive collection of hotel websites, the audience was left to chuckle at the shocking innovation in hotel websites being the renegade hotel who put their booking widget on the top banner instead of on the left or for the racier hotels, the right. The one shining example of a small inn in Belize that has blazed it's own path by writing to traveler personas has been rewarded with some very impressive and real business results. The obvious message to healthcare is to create and curate content with patient personas in mind.
Brian Harder and Andy Gradel's session "Responsive Design Ahead: Keep Your Eyes on the Road" was delivered to a standing-room only crowd. This was an in-depth "how to" session that answered the question on everyone's mind, "We've all been discussing BYOD for some time. So, now what?" This session boasted the hallmark of a great educational session by sharing real-world screen shots of page/browser combinations that did not function as intended alongside those that did. One of my big take-aways from this session was to scrutinize ways to minimize page weight and therefore load time, taking mobile access into account. So, the snazzy graphics we have all grown to love so much must be balanced with page weight considerations.
Although my review on this one is admittedly biased, "Too Much Information? Strategies to Craft an Intranet That Really Works," presented by my colleague Chris Heinl and HospitalPortal.net client Brooks Betts of Maine Health presented some often overlooked tips and must-dos to a solid audience focused on internal communication. Brooks' approach was focusing on what makes their intranet a huge improvement from his perspective as CIO was well-received despite the fact that more attendees were from the marketing/communications arena than from IT. Nonetheless, the nodding amongst the group was a solid indication that attendees had dealt with the same challenges of IT being the primary editors of intranet content. The session focused on specific ways allowing non-technical departmental super-users to manage their own content keeps intranet content vibrant at the three hospital campuses he oversees while using workflow and integration to automate as many business processes as possible.
Larissa Rachel's topic "Integrating Multiple Tools for Immediate and Coordinated Crisis Communication" clearly struck a chord with a geographically diverse group, although many hailed from areas affected by hurricanes. The case study related how the Touro Infirmary navigated the many obstacles to effective, immediate, critical communication with staff during potential disaster situations where stakes are high. In addition, Larissa discussed considerations of providing privacy-compliant status information to patients' families that are outside of the area, knowing in many scenarios when their "lockdown" mode is in force phones may be down.
As usual, the conference concluded with the eHealthcare Leadership Awards. As in years past, a handful of leading health systems demonstrated their continued commitment to web communication by amassing numerous awards. At HospitalPortal.net, were delighted to have two clients recognized in the intranet category this year: Jefferson Center for Mental Health with Gold and Olmsted Medical Center, a second-time winner, with Silver. The awards recognized all manner of specialized digital communication from social networking to mobile communications. Award recipients read much like a Who's Who of elite health systems in the US.
If you would like to keep up on the latest coversations in the world of Healthcare Intranets, feel free to join our LinkedIn group, Healthcare Intranet Professionals. For those who attended the conference, what highlights did I miss?