Hospital Intranet and Policy Implementation is Sending IT on Vacation
Does your hospital REALLY need an Intranet, Policy & Procedure system or both but your IT department
just doesn't have the time and resources to implement one?
The role that the IT department plays in such implementations has dramatically changed over the years as more and more people become technically savvy and comfortable utilizing technology to ease their daily lives.
In the not so distant past if a hospital had an intranet site it was 100% managed by the IT department meaning that whenever ANY piece of information needed to get published on the intranet site the end users would forward the change to IT which would then eventually complete the requested change(s). And for policies and procedures the process was even more miserable with 100% manual approaches to proofing, reviewing, approving and publishing of policies. Typically the end result was mass printing of the policy and manual update of binders throughout the organization.
With the advent of Facebook, Twitter and other social networking platforms more and more people have familiarized themselves with internet technologies and how web based solutions fit into their everyday lives as well as work lives. And this has reflected directly on how employees accept new technology initiatives advanced by management within their organizations. Today employees expect technology to ease the work load and for it to be easy to do such things as post information / content on the corporate intranet site as well as the elimination (or extreme reduction) of printed policies & procedures. So how can one say that implementation of a robust Intranet / Policy & Procedure system does not require hefty demands of the IT department? The truth is it just doesn't require the demands of the not too distant past. We at HospitalPORTAL have witnessed firsthand multiple implementations where the IT department played a very minimal role in implementation and roll out of such systems. Today IT is only needed for a handful of relatively simple tasks such as provisioning hardware for the new system and some minor advice to the vendor on how to configure connecting to Active Directory for example. A typical hospital intranet implementation or Policies & Procedures implementation requires the following effort from the Information Technology group (Warning, IT jargon ahead):
Provision and procure a web server. Often there is already a web server available and unless you have an organization with hundreds of thousands of employees the amount of traffic does not require dedicated servers. For example: a HospitalPORTAL web server only requires installation of IIS which is usually available as part of the Microsoft Server application and therefore no additional cost.
Identify or Provision / procure a SQL Server database server. Most commonly a hospital ALREADY runs systems that run on SQL Server so most hospitals already have SQL Server configured in their organization. So in most cases there would be no additional cost for SQL Server since an existing license would be used. Again, if your organization does not have hundreds of thousands of employees then the resources required are minimal and most commonly can work side by side with other system on the SQL Server. If an existing SQL Server is not an option then either SQL Server can be installed on the same web server and Microsoft even offers a free version of SQL Server that may work if your needs do not outgrow the SQL Server Express limitations.
Provide the vendor with Active Directory information required to connect the application to active directory to allow for end users to authenticate. Using HospitalPortal.net requirements as a guide; a questionnaire of about 5 items is provided to IT. These questions are usually very simple for IT to respond to such as what is your domain name, provide a security role in AD that contains administrators of the intranet etc.
Provide VPN access or coordinate access to the vendor to connect for application updates as well as for support investigations. Clearly if VPN access is provided very little will be required of IT.
IT is advised to create a DNS entry that will serve as the new address for the site and is also advised (but not required to) apply a handful of useful group policies to enhance the intranet experience for the end users.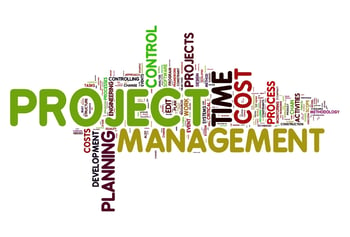 So as you see the requirement of the IT Department is quite minimal based on the above. So you next may ask who "Manages" the intranet site? Well we have been witnessing many more implementations where Marketing or Public Relations leads/manages the site. This is usually best achieved when a project manager from one of these departments oversees the implementation process making sure to assist end users with assistance setting up and administering their small corners of the intranet site and when the project manager can't help have the vendor step in and assist the end users much as HospitalPortal.net support does with both new implementations as well as ongoing support. Once the site is configured and you have gone live the end users are largely responsible for editing their content and the Marketing or PR person now becomes the portal administrator with minor duties such as coordinating application updates and advising end users of the system.
Policies and Procedures implementation and maintenance largely follows what was discussed for intranet sites with only small differences like the department managing the project is often Administration instead of Marketing/PR. Another difference is that the administrator / "Super User" will take on a moderator or monitoring role where the super user will make sure that the authors, reviewers and approvers are doing their part when they are required to and the moderator will publish the policies once the process is complete.
The above assumes that your end users will adopt the system and enthusiastically take responsibility for maintaining the content that pertains to their department or area of the intranet. And in most cases end users are responsible for content of the site, the Marketing / PR person is the "Super User" that assists the end users and IT plays a limited role just being there for any technical needs that may come up. For your end users who refuse to take responsibility for their portion of the system either the "Super User" manages their portion, the vendor can be contracted to handle these exceptions or reluctantly IT would need to step in.
HospitalPORTAL has become an expert on successfully implementing both Intranet and Policies & Procedure systems for hospitals throughout the country. A typical implementation involves heavy involvement of HospitalPORTAL's implementation and support teams as we strive to assist both the super users as well as end users during the implementation phase. This means the work load on your internal implementation resources and your IT department will be very light. Since we will be doing all the heavy lifting, your internal staff can stay focused conceptualizing, building and tweaking the content and will not have to worry about the technical aspects of the system. In addition to onsite training and implementation visits to educate the super users and end users as well as implement the solution with real content; HospitalPORTAL offer hands on one-on-one web based support and training so your users don't have to worry that once we have completed our visits that they are "on their own".