How to Celebrate Employee Appreciation Today and Everyday
Every member of the team works to advance your organization. That said, it's important to express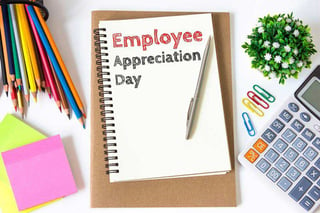 appreciation for each role, whether large or small, for what they do. Taking the time to recognize your employees ensures that workers feel welcome and needed, and it can only impact your organization and culture in a positive way.
Employee Appreciation Day takes place March 3, and we think today is as good of a time as ever to show your employees that you appreciate them. However, it's a good idea to show positive reinforcement to your staff not just today, but on a regular basis. Day-to-day recognition creates a sense of meaning and purpose for employees. In honor of the holiday, we've put together some ideas you can use to express appreciation to your team members any day.
Congratulate exceptional work
Public recognition (through an Intranet, newsletter, etc.) makes the employee being congratulated feel valued for their exceptional work or for going above and beyond. Additionally, it lets their peers know the work that they are doing for the organization.
Acknowledge the small things
No deed is too small. Private recognition can go a long way to make employees feel validated. Does someone stay later than usual or help out on a task that wasn't originally theirs? Send a quick email or find said staff member in person to express gratitude.
Celebrate anniversaries
Celebrate employee's work anniversaries by planning a small gathering. This recognition shows your employees that their commitment is valued.
Create small incentives
Give small prizes like gift cards for good attendance and wellness. These small incentives will encourage your employees to participate and show that you care for their work.
Promote and increase work when appropriate
When the time is right, giving staff members more responsibility lets them know that their hard work does not go by unnoticed. It also shows them that their work is done well and is meaningful to the organization.
Hold an employee appreciation event
Even if it doesn't take place on March 3rd, what better way to show your employees that you appreciate them than with free food to break up the workday?
With these ideas in mind, go forth and let your employees, team members and peers know that they are valued. Happy Employee Appreciation Day!
For information on HospitalPORTAL products and how we can work with your organization, schedule a free demo or request a quote today.