How To Improve Patient Safety With Your Intranet
With so many factors involved in the healthcare sector, it's possible to lose sight of the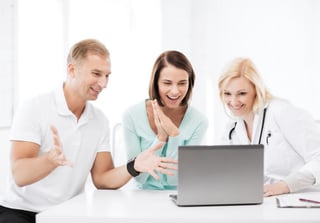 big picture at times: helping others. Keeping ethical practices and patients safe is a main concern to organizations, the patients themselves, and their loved ones. There are many ways an Intranet can help improve patient safety. We've listed some of them below.
Educate and Train Staff
Healthcare workers must consistently learn and evolve with the industry to ensure that they are providing the most quality care to patients in the safest way possible. As a central communication tool, an Intranet is a prime place to help train and educate staff. Easily enable notice of acceptance tools for gauging knowledge on protocols, updated policies and procedures, required articles for onboarding, clinical training videos, and more. Point and click in as easy as two steps to schedule training sessions or create a "Question of the Day" to keep employee's skills sharp. Additionally, keep a running news or RSS feed to keep your staff updated on all industry news and happenings.
Delivers Real Time Patient Metrics
An Intranet can provide dashboards on patient visits, patient satisfaction reports or scores, time sensitive announcements, patient safety counters or operational statistics on how the organization is performing. 2017 has really started advocating for more transparency within healthcare organizations to help staff connect to their company cultures, missions, and values better. Additionally, general information on administering or discharging patients can be found on an Intranet helping to standardize the level of care and ensure patients are getting the same high quality experience at every visit.
Staff Engagement
An Intranet is a starting point for all healthcare employees to find operational information and communications to do their jobs better. Bringing employees together through an Intranet can help build collaboration and trust—and when there is trust between colleagues, leadership, executives, and clinicians an organization can begin to shift their workforce from reactive to proactive. An organization with a staff that is focused on working collaboratively will lead to higher patient safety outcomes. This overall connectivity and awareness will keep staff more accountable for their actions. A more engaged and connected workforce leads to improved productivity and a greater awareness for the overall safety of your patients.
Streamlines Processes
An Intranet is a major content management system that organizes and streamlines even the most mundane tasks. By utilizing its many features, physicians save time on processes that may have otherwise taken much longer. In turn, this gives them more time and energy to devote to their patients, getting to know them, and responding to their needs in a more engaged manner.
Works With Policy Manager
Keeping documents updated and organized is a crucial way to ensure that you are remaining compliant and keeping patients safe. That's why an automated policy management system is so effective. The best part? Many CMS Intranets integrate with policy systems meaning these two resourceful tools work smoothly together and are easily accessible from one another making searching, accessing, and staying informed a simple, uniform experience.
For more information on patient safety, you can visit one of our favorite helpful resources ECRI.
Find this blog post helpful? Download the PDF version now to keep in your files and refer back to!
For information on HospitalPORTAL products and how we can work with your organization, schedule a free demo or request a quote today.