Hurricane Sandy 1 year later… is your hospital better prepared?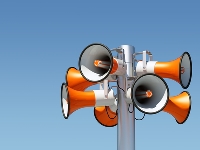 Humans have only evolved through the ages because we adapt and learn from past events. Is your hospital any more prepared for the next natural disaster or emergency 1 year after the lessons of Hurricane Sandy? We heard numerous times from our affected East coast hospitals that during the disaster the hospital's Intranet was the go-to source for updates and emergency information during the crisis. Some even said they couldn't have lived without the intranet! If your hospital's intranet is not currently capable of assisting in an emergency you should prepare now before the next crisis arises.
You may be wondering how the intranet helps with emergency preparedness. The intranet serves two main purposes. First it prepares your employees for a crisis and second the intranet serves as the main source for employee communications during a crisis, providing quick and easy access to critical information.
Your intranet can provide tools for employees to sign up for emergency related training and provide education related materials. It can also proactively outline an emergency chain of command flow chart as well as emergency plan documents and downtime policies & procedures. One of the more important aspects of the emergency preparedness area on the intranet are emergency contacts or emergency directory or even possibly an emergency action wizard which allows users to answer a series of questions before the user is presented with instructions on what to do in a specific type of emergency and who should be contacted. Last, any additional useful resources should be published including: Links to federal, state and local emergency information, RSS feeds of specific emergency information from the internet, a listing of the different emergency codes used at your facility, evacuation
plans and news and announcements that are published during an emergency to instruct and advise your staff.
The importance of a good emergency plan on your intranet cannot be overlooked. You risk
injury, litigation and bad press in a crisis when your employees are not properly informed and advised. Take the proper steps NOW before it is too late.