Impacts of Positive Communication in Healthcare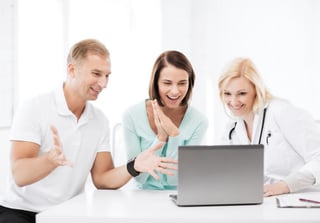 Strong and effective communication is important in the healthcare sector. A doctor, nurse or clinician may excel at their work, but if the communication is not clear and effective, it is of no use. Building positive relationships between healthcare representatives and patients is extremely important to the success of the organization.
Research shows that the quality of interaction between a patient and care provider affects the patient's overall opinion of services received. A positive interaction encourages patients to follow medical recommendations, adopt healthy behaviors and even promote the hospital or practice throughout the community. Effective communication involves listening, explaining and sympathizing.
Positive communication fosters the best possible delivery of healthcare services. Here are some results of effective communication in the workplace and ways your Intranet can help you achieve them:
Accurate diagnosis
Many patients feel that they do not get enough time to tell their story. Listening carefully to the patient's medical history helps doctors and nurses make an appropriate diagnosis. Incomplete facts will result in inaccuracy. Interrupting patients may prevent them from sharing important information.
Proper adherence by patients
While giving medical advice, a kind approach – along with clear, concise instructions – will encourage patients to listen. They will follow the instructions more seriously, go for checkups, adopt healthier practices, follow medical recommendations, and so on.
Patient satisfaction
Patient satisfaction is imperative to the success of a healthcare organization. The satisfaction of a patient and their family is not limited to the services provided by the doctor or nurse. It extends to the whole care providing team; Even the receptionists at a clinic, diagnostic center or hospital must work to satisfying the needs of their patients through efficiency and kindness. This helps develop a better rapport with the patients so they receive continued care.
Reducing errors
Effective communication reduces medical errors. Using tools such as a Hospital Intranet can provide staff with access to procedures and policies regarding specific patient care. This increases efficiency, because staff can spend less time looking for documentation and more time listening to their patients. Additionally, empowering your administrative or clinical staff with knowledge prevents errors in the workplace and reduces stress levels.
Team satisfaction
Positive communication within the team creates better working conditions. Promoting a culture of mutual support can increase job satisfaction and employee retention. For example, using your Intranet for employee recognition is one way to motivate staff. Increased job satisfaction can impact the care your staff provides to their patients. A happy doctor or nurse will form better relationships with their patients and their families. As a result, everyone will feel valued, understood and supported.
HospitalPortal.net provides hospitals and healthcare organizations Intranets and Policy Management Systems, so their staff can quickly and easily access vital information. With simple access to this information, staff can better deliver quality care to their patients. By providing healthcare staff and physicians with a reliable place for internal communications, your organization can strengthen the skills, minds and hearts of your workplace.