Improving Lab Policy Management to Reduce Certification Visit Stress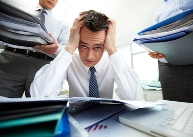 HospitalPortal.net's educational webinar last week focused on improving policy management in labs and how doing so can reduce the inevitable stress surrounding certification visits. There is no denying the stakes are high and lab directors feel pressure for months leading up to an anticipated visit. Judging from the number of registrants for this session, this is a topic that is very much on the minds of many lab directors. For those of you who missed the session, we wanted to share the highlights.
Starting with conventional wisdom that preparing for a lab certification visit is up there with moving, changing jobs, and having a baby for live events inducing maximum stress, we accept the fact that eliminating this stress it outside the realm of possibility. However, what lab directors can do is allow themselves to sleep at night by starting well in advance with shrewd preparation. This includes staying focused and tuning out much of the "noise" that only adds to stress. It also includes accepting the fact that in today's highly regulated healthcare environment, policies and procedures are best managed with the help of automation.
By using a system that meticulously documents everything from collaboration in the policy approval process to who read policies and when to send automated reminders to review policies, lab managers can rest easy that the Evidence of Compliance they need is in order. Other requirements for an optimal solution include advanced search capabilities, time and date stamps on actions performed, electronic verification that staff has read policies, and the ability to use electronic forms to log supporting records and activities. The session also covered ideas for streamlining Evidence of Compliance by supplementing policy and procedure documents with related manufacturer manuals when applicable. Including supporting documentation along with the policy or procedure promises to simplify verification that all is in order and keep auditors happy.
A common theme in session feedback was that many labs utilize shared drives for accessing policies and procedures, but in many cases storage is fragmented with some documents on one drive and others in an entirely different area. In our experience at HospitalPortal.net this is a system that is in place at many health systems but is lacking in a number of ways. For one, depending on the system, ensuring the latest version is what staff has access to is difficult at best. In addition, archives of previous versions are often difficult to locate with this setup and documentation that staff has read policies is not addressed. Another recurring comment was that multiple versions of the same policy were often saved in different areas.
The consensus seemed to be that policy management at most labs could use improvement. Please share with us ideas and suggestions your lab has used to improve policy management.