Is your hospital's intranet optimized for Emergency Response?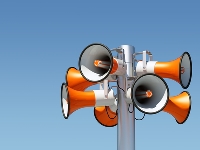 When an emergency is underway where will your employees turn for information and guidance? Your intranet! The question is does your organization's intranet site effectively disseminate the information that the staff needs to properly handle an emergency or disaster?
So what does your intranet site need to be an effective and comprehensive emergency management platform? The answer is not that complicated; you want to make sure that information published is as "real-time" as possible meaning that staff members can easily update the website THEMSELVES as soon as necessary. It is imperative that Policies & Procedures and Emergency Action Plans are easy to find and current. Finally, notifications and broadcast messages should be prominently visible and easy to maintain and update by your employees.
With these objectives in mind the responsibility falls on the IT department to select an intranet solution that:
Provides easy to use tools to publish documents or information by your end users for the purpose of publishing data such as Policies & Procedures, Emergency Action Plans as well as contact information for your staff.
Immediately upon viewing the site displays important notifications and broadcast messages with instructions or important information about the emergency at hand.
Allows everyone with permission to maintain the content on the intranet without having to forward change requests and wait for them to be processed by the IT department or designated staff member.
Every location in a hospital network or satellite offices can all easily access the same information in a disaster or emergency.
Provides decision makers with census and other data in a dashboard type display that is capable of combining information and data from various systems directly on the intranet. With this information always readily available preemptive decisions can be made to make sure that a sudden surge of patients can be handled properly.
Is easy to use and easy to find the information you are looking for.
The IT Department is clearly responsible for taking steps to ensure that the hardware and systems are protected during disasters and emergencies. But it is also important that certain information such as policies and procedures be available even when computer systems are down. For example, does your Policies & Procedures management system provide the ability to download the documents so that CD's or USB disk devices with the policies can be on hand in an emergency? This type of scenario should also be considered when selecting a document publishing or intranet solution.
During an emergency the IT Department must be able to publish information about system and application availability that your employees rely on. Once again it is important that the intranet provide a platform so that IT can publish status information as well as information about expected length of downtime and information about what to do as a work around.
The intranet is the most important tool that your employees will call on in an emergency or disaster. Ask yourself these questions and if you don't like the answers then it might be time to consider an upgrade of your intranet: Does your hospitals intranet site have what it takes to equip your employees with the tools they need to properly handle the situation? Are my hospitals emergency action plans easily and readily available? Can I easily find policies that I need to employ during an emergency?