Overcoming Communication Challenges Between Employers and Hourly Employees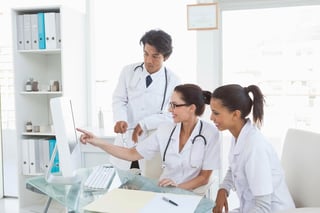 Many employers have a challenging time communicating with their hourly workers. We have outlined some tips on ways your organization can reach these employees better.
• Tell employees first. Healthcare employees are accustomed to being empowered; they are on the frontlines of making vital decisions every day. Although your customers (patients) are your most targeted audience, your employees are VIP's too. Healthcare employees should be the first to know…and -sometimes the ONLY to know. Keeping them up-to-date on new products and promotions, as well as on what's going on within your organization, helps maintain that open flow of communication which your staff members truly value.
Corresponding Intranet Feature:
Using a Hot News section on the home page, your organization can easily highlight important news, events and hospital updates. Subscription-based content sections can be added to profiles to allow staff to be alerted via email when news has been updated.
• Offer valuable training. Talent gaps in healthcare are a real concern. With the changing HealthCare landscapes, oftentimes the skills that employees entered the organization with just aren't matching with the new responsibilities needed for their positions. This is very common in healthcare IT. As Healthcare continues to digitize, IT must keep pace. With the growing and emerging demands, IT leaders are challenged to find staff with the right know-how. Although IT is one example, it is imperative that organizations invest in technology to keep their teams' skills up to date. Employees ultimately want to be able to perform their jobs to the best of their abilities. You hired them because they had the talent and skills; Now you must enhance these traits by investing in training and technology that will enable them to continue to learn and grow with the company and the healthcare industry.
Corresponding Intranet Feature:
With a simple class registration feature, a hospital can train new hires and provide ongoing training to current staff. With reporting and tracking tools, organizations can manage progress and report on staff that hasn't finished classes or read the materials, policies or procedures needed for the position or for annual maintenance.
• Individualize workplace communication. Sending out general, mass emails will not get your workforce to engage with you. Take time to consult with employees on a one-on-one basis. This can mean a huge difference as far as morale is concerned. Rather than just heaping information onto them, ask questions and, more importantly, listen to their answers. Addressing staff's needs will engender a much more open and productive workplace climate.  
Corresponding Intranet Feature:
Hospital staff and physicians get inundated with a great deal of emails throughout their workday. Using a forum component will allow you to communicate with several department staff simultaneously so information can be more specific and delivered to a wider audience. Forum features allow for a Q&A type dialogue that can be role, department, or project specific. Chat features can allow for more personal, direct communication when meetings are not possible. Idea banks can allow staff to respectively share ideas and improvements that they would like to see made at a facility or departmental level. This inspires staff to feel connected to the organization and leadership even if they are not a salaried employee member.
• Encourage collegiality. Oftentimes your workers don't really know or consequently understand one another. Fostering a sense of workplace collegiality helps to create a more positive and friendly atmosphere. Encourage a cooperative mentality, help staff collectively define goals and outcomes, and offer opportunities for team building and getting to know one another. It's important to help your employees feel comfortable around each other.
Corresponding Intranet Feature:
Other forum features like classifieds or recipe sharing sections can encourage engagement between staff. Personal profiles offer a way for new staff to learn more about their colleagues. Online collaborative workspaces can offer a place to share work directly or discuss departmental projects.
• Provide positive feedback. While certainly we need to note when mistakes are made and offer corrective solutions, it is also very important to acknowledge the positives. Offering feedback in light of workplace achievements and exceeded expectations is a great way to foster better and more open lines of communication with workers. Inspiring an atmosphere in which employees feel appreciated can only enhance your company culture.
Corresponding Intranet Feature:
Providing a Kudos Corner can be a perfect way for staff to post positive comments about fellow peers. Sales staff or customer service representatives can easily share some daily wins here. Using an Employee of the month nomination form, your staff can recognize the achievements of select staff and share it with the entire organization.