Resolutions Hospital Intranet Content Editor or Administrator Should Make
Welcome to 2015! A new year often means new resolutions. While likely this includes getting fitter, drinking less coffee and eating less chocolate, let's not forget your Intranet plans. Many personal resolutions can also be applied to your employee communication platform.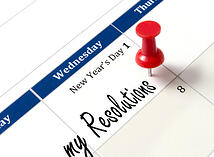 We have put together few resolutions to bring new perspective to your Intranet in 2015:
1. Try Something New
Do you feel like your Intranet is stale and your staff doesn't feel a need to venture to it on a daily basis. Surely, your communication platform contains a lot of relevant content. But is that content or at least the main landing pages updated often? Try to bring some fresh perspective to your Intranet to elevate excitement and have something new for the employees to talk about. Some ideas may include:
a personal story of one of your employees that have been with the hospital the longest
an up to date list of staff celebrating their birthdays or work anniversaries updated weekly
an image gallery of photos from the holiday party
a current and fresh blog post from your senior leadership team or the hospital CEO
a drawing with fun awards for staff that would like to share their relevant personal stories
a thank you letter you have recently received from one of your patients
and if nothing else works…a photo of a the first baby delivered at your hospital in 2015
2. Spread the LOVE
An Intranet does not need to be closely managed by a single individual or department to be elegant and effective. Quite the opposite – it is easier to keep the content current if multiple staff across different departments and disciplines can contribute to home page or departmental page content. Why not set up a class and teach other individuals how to create and change content, or give out blogging rights to various users across the hospital.
3. Don't Give Up, Try and Try Again
It's pretty easy in any job, including content management and editing to get stuck in "your ways". As an Intranet content administrator you probably are familiar and comfortable with your CMS platform's editing tools. But likely being comfortable won't help you improve. Try some new components, take up new projects, and look for automation areas that can be addressed with the Intranet.
Also, try to resurrect projects or ideas you might have tried a few years ago that quite didn't pan out. It is possible the CMS platform did not easily support what you wanted to do then or maybe your organizational vision was not ready for what you were proposing. It's possible these ideas are quite feasible now or your organization is ready for the change.
4. Treat yourself (and your Intranet too)!
Is the graphics starting to look old? Are your departmental templates not as appealing or exciting as they once were? Take up a graphics redesign project. With very little effort and small investment your Intranet site can look cutting edge and new again. …And don't be shy to accept gratitude for the rest of the year from the employees all across the hospital for bringing new life to the "old" site. (Be prepared to repeat the process next year…)
5. Watch and Learn
And most importantly ask your staff for feedback. Set up a feedback form right on the home page of your Intranet or a table at your hospital cafeteria. Talk to your users and ask for their comments. While you will receive many kudos, you may get some constructive criticism along the way too. Make sure to note, itemize and prioritize your user's feedback and use it for planning of your Intranet improvements for 2015. While some ideas will result in huge benefits, some may only look great on paper. As you implement these improvements make sure to check page statistics and measure site utilization throughout the year to learn what works and what does not.