Service Excellence–An Inspirational Journey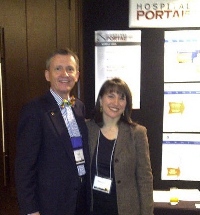 What a pleasure it was to have spent a good part of my week last week being indoctrinated into why Service Excellence is an important, practically imperative goal for healthcare organizations today. The theme of Custom Learning Systems' 2012 conference was "Thriving on Healthcare Reform" and it was an appropriate title.
The conference showcased in cold, hard numbers how the organizations that have undertaken the initiative have excelled, not only with improved HCAHPS, but also with improved employee retention and satisfaction. Of course, these measures are not unrelated—staff that feels empowered and appreciated will naturally "pay it forward" and make patients and their families "feel the love" and know they are in a different kind of hospital.
It was so refreshing to watch the Video Scrapbooks created by the organizations that attended and to actually be able to feel the excitement in the room. An recurring, underlying theme throughout the conference was to cut the bureaucratic speak and get back to basics, talk to people like real people, don't ignore any elephants that may be in the room, look them in the eye and just be real. More importantly, CLS' bottom-up approach seems to be a critical part of the success of their program. As founder, Brian Lee asserted in a conversation the week prior to the conference, "authorship=ownership." When frontline staff has the opportunity to have a say in the direction of the organization, they often say profound things, but they also exhibit commitment, quite unlike what would take place if a Service Excellence initiative were be forced on them by leadership.
The conference was about nurturing people—staff, ourselves, and patients. Session topics focused on quality for staff as well as for patients. I was surprised but delighted to participate in sessions on topics like Workplace Bullying and how to deal with it and how to take care of yourself with balance so you can be your best at everything you do—work, spouse, parent, or whatever other role you fill in your non-work life. This qualitative philosophy resulted in a great vibe—a group of people who really care about healthcare working together and exchanging ideas on how to keep the positive momentum going in an environment ripe with challenges.
As I headed to airport, I realized I was sad to leave despite my adoring daughters, husband, and golden retriever anxiously awaiting my return. Thank you and mission accomplished, Custom Learning Systems. If healthcare organizations can accomplish that same sort of sentiment in their staff, they will be successful in so many ways.
I am so excited that Brian Lee agreed to share his vision during a joint webinar session that took place on February 7, 2012, The Magic of Frontline Engagement. The recording can be accessed by CLICKING HERE.