Should You Upgrade SharePoint, Or Purchase An Out-of-the-Box Intranet?
It's no secret that Microsoft SharePoint is one of the biggest players in the Intranet scope. With their latest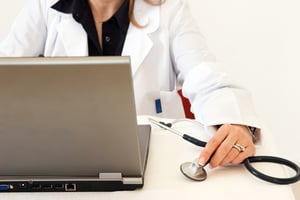 on-premise solution, SharePoint 2016, or their SaaS option, SharePoint Online, we've encountered numerous organizations in the healthcare sector facing the decision of whether to upgrade their SharePoint Intranet for more features, or to find a new Intranet solution. All in all, SharePoint isn't always the answer. What this decision really comes down to is analyzing your practice's needs with the features each solution can provide.
Here are the factors we think you should take a look at:
Collaboration
SharePoint: SharePoint boasts a collaborative workspace and strong document collaboration features, but only if users have the entire Microsoft Office. If this is the case, team members can edit different Word, PowerPoint, or Excel documents at the same time.
For many organizations, the collaborative aspects are not the most important part of their Intranet experience. Typically, working documents are often fine (and possibly simpler) if they are being accessed on shared drives. It's critical that the Intranet has the ability to provide access to published documents that the entire workforce needs, such as policies, procedures, protocols and forms. The Intranet should have a clear and concise way for individuals involved to contribute to creation, approval and publishing of such documents.
Our Solution: HospitalPORTAL offers an inline editing system and automated workflow, keeping everything securely in the system with a well-defined authoring, review and approval workflow. The publishing platform is easy to use even for non-technical users.
Social and Sharing
SharePoint: When it comes to sharing information, SharePoint offers social media options. However, to implement maximum social and collaborative features, you'll be required to utilize multiple different applications to make them work, often requiring expensive customization.
Our Solution: Out-of-the-box Intranets such as HospitalPORTAL come equipped with social and sharing tools within the program, making for a much quicker and simpler feat with no special customization or implementation efforts.
User Friendliness and Customization
SharePoint: One of the biggest concerns SharePoint users have is its user friendliness. Navigating and customizing the system can cause much frustration for employees who use it everyday. The program is much more usable for web developers or IT departments. That said, this sort of expertise is required each time to fix an issue at hand, customize the site, etc.
Our Solution: HospitalPORTAL features intuitive navigation, customization, and usability. It is simple to troubleshoot issues for users in any and all departments, putting less stress on your IT employees. Very minimal training is needed for content contributors and editors. The simple-to-use editing framework makes designating editors for each page or content simple, thus decentralizing content editing tasks and achieving a friendly, robust and comprehensive end user experience.
Timeliness for Creation and Implementation
SharePoint: Since SharePoint requires the time and attention of specific departments, that means it takes a much longer time and more careful planning to ensure your Intranet contains everything your organization needs from it.
Our Solution: If you are looking to roll out a well-rounded, robust solution within a shorter timeframe, HospitalPORTAL might be the right choice for you. Our team will work with your practice to help you plan out your Intranet and meet your needs, putting ease on your employees. It is not uncommon to have a HospitalPORTAL Intranet fully up and running complete with dozens of departmental pages, directories and document repositories within 2-3 months from purchase. Furthermore, our integrated training and implementation based on proven best practices is a one-stop-shop and makes it easy to complete the project on time and within the budget.
Pricing
SharePoint: SharePoint 2016 does not offer a free version, as other versions have in the past. Additionally, to access more features, you'll need to upgrade each time – which might result in spending much more than intended.
Our Solution: An out-of-the-box Intranet or hosted solution will result in a one-time flat fee, or monthly payments. Vendors can work with your organization to customize a payment plan that works best for you. Most importantly, all training and implementation fees are included with HospitalPORTAL.
For more information on the topic, we conducted a Q&A with Hospital Portal client Chad Lipske of Memorial Medical Center in Wisconsin, who gave us some insight as to why his organization switched over from SharePoint after utilizing it for seven years. We hope that his experience can help give you a more personal look as you make this decision.
Q: What made you decide that you needed to try something new?
Chad: The ease of use is our main reason for switching from SharePoint to a product like HospitalPORTAL. We were able to fumble through (SharePoint) and do some work with it, but we weren't really getting the results we wanted until we went to HospitalPORTAL. Once we got there, it was a much easier and more straightforward. What we wanted our Intranet to look like, we were able to achieve with HospitalPORTAL.
Q: What areas did you struggle in the most with SharePoint?
Chad: Design. We had to use SQL Server a lot to try to do some of the designs that we wanted to do in SharePoint. It wasn't really a nice, out-of-the-box product to utilize. We were looking for something a little simpler. Being a smaller, critical access hospital, we didn't really have a department dedicated to the Intranet or Policies and Procedures. We were really looking for more of that ease to be able to have something that we could do. We could operate as a small hospital, with two or three people running the site, and have it function as we wanted to.
Q: Which Hospital Portal features have been most helpful to your organization?
Chad: The main one is the Policies and Procedures component. It's much more streamlined, much easier to use, and more user friendly. We don't have our end users getting frustrated trying to do polices and procedures anymore. We're able to have it as a nice, condensed, easy-to-understand system.
Q: What was the switch like?
Chad: One of the nice things about HospitalPORTAL. was that we were pretty easily able to transfer all the information over. We didn't have to recreate the wheel. It was just kind of grabbing that same information, loading it into the HospitalPORTAL. platform, and making the system work the way we wanted it to.
Q: What advice would you give to organizations considering switching vendors?
Chad: Put a plan in place before you jump in. SharePoint was a great learning experience for us. We realized that we needed a plan in place. We thought we had that plan when we started SharePoint, but we didn't. When starting out with HospitalPORTAL, they said, 'Determine what you want this to look like, and take it from there. Don't try creating it as you go, because it doesn't really work.' That's what we found to be extremely useful, to know the idea of what we want the final product to look like.
For information on howHospitalPORTAL Intranet or Policy Management System can help you remain compliant, schedule a demo or request a quote now.
Find this blog post helpful? Download the PDF version now to keep in your files and refer back to!