Spreading the Holiday Cheer Using Your Hospital's Intranet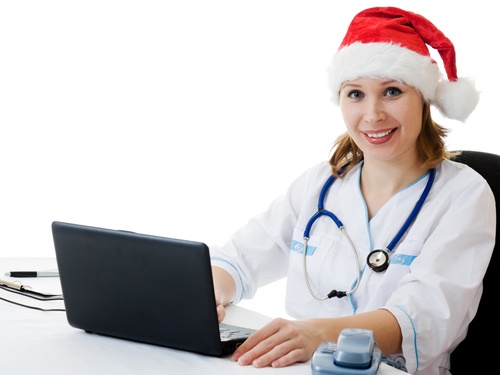 The hospital's Intranet is one of the most important tools available to all hospital staff. Everyone with a valid login has the ability to log into the system and view policies, scheduling, see who is on call, and many other things that are important to the hospital's daily operations. Intranets are typically reflective of the hospital's logo or brand colors and generally contain a lot of text. Today we're going to show you several ways to spruce up the look and feel and content of your Intranet to spread holiday cheer and improve communication with staff during the holidays.
1. Countdown to Christmas – Add a countdown timer on the welcome page to show people that you're thinking about the holiday season as much as they are and to create some excitement as the holiday nears. Make it bright and cheerful to keep up morale.
2. Promote Holiday Gatherings – Nurses and other staff who work the same shifts often build bonds of friendship. Use the Intranet to remind associates of upcoming holiday gatherings whether they're hospital-wide or for a specific shift.
3. Change the Colors to Reflect the Season – A hospital Intranet is generally filled with a great deal of content. Try to enhance heavy content-filled pages with holiday imagery. Or brighten things up with festive colors or a cheerful header to fit the season.
4. Dress the Logo in Holiday Cheer – Add snowflakes, ornaments, candles, or some other traditional holiday image to the logo to dress it up for the season. This can even be done on your client-facing website to promote holiday joy for visitors looking for information about the facility too.
5. Keep up with Scheduling – Everyone has odd schedules during the holiday season. Make it simple for staff to look at the scheduling calendar to see when they work. Use colors to highlight days off for certain staff members or departmental on call schedules.
6. Holiday Notifications and Reminders – Alert staff of holiday parties or set reminders for them to read holiday PTO or other policy documents using your Policy Manager workflow.
7. Use Scrollers – Set custom scrollers to alert staff of any changes due to holiday hours or any IT downtime due to seasonal updates. Broadcast inclement weather updates for hospitals in colder climates.
8. Keep up with Cafeteria Meals and Treats – The cafeteria staff at most hospitals enjoy making special treats throughout the holiday season. Promote those festive bites on the Intranet so everyone knows what to expect when they visit the cafeteria.
9. Spread the Holiday Spirit – Use executive blogs to share thoughts about the holiday season or to personalize weekly greetings for hospital staff.
10. Host a Holiday Contest – Encourage staff to decorate offices or workstation areas. Run a departmental contest and allow everyone to anonymously judge using a survey feature and offer prizes for the best decorations.
11. Create a Holiday Community Page – Through a forum or classifieds listing section, ask staff to share personal photos of their holiday decorating at their homes or DIY secrets to holiday decorating and gift ideas.
12. Promote Holiday Donations – Highlight ways to give back to the community through a giving tree or launch donation fillable forms to allow staff to donate to local, holiday-focused gift giving charities.
The holidays hold special meaning for many people, and for many different reasons. Some wait excitedly year after year for the holiday season. With some small tweaks to your Intranet, you can reach your staff on a more personal level and help brighten their work days with holiday cheer. It's very important to keep staff morale up all year round, but especially during the holiday season when distractions are more.
HospitalPortal's Intranet and Policy Management Software is designed to allow easy communication between employees, physicians, and board members. We know that you need to maintain open lines of communication to share vital information, policies, news, announcements, and more. Our goal is to make it easier to share this valuable information with all staff members. For more information about our products, call us at 847-632-0434 or check out our demo.