The Challenges of Onboarding Employees and How an Intranet Can Help
Assimilating into a new role is exciting for both parties. New hires look forward to the opportunities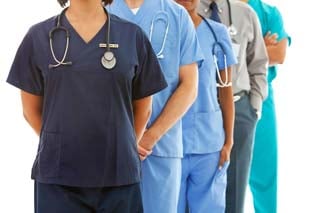 presented at their new company, while the company can't wait to see what their new employees will bring to the table. However, in the healthcare industry and beyond, onboarding new employees comes with it's own set of challenges. Here are some of the common struggles faced in those first couple of weeks, along with the features of an employee portal that are meant to assist with those challenges.
Challenge #1: New Hire Forms
Each new job comes with multiple forms to fill out, from W-4s to employer-related contracts or manuals. It can be a challenge to keep track of everything, especially in the midst of everything else that comes with settling into a new role and learning about the organization.
How an Intranet Can Help:
An Intranet automates the entire process, making the documentation easier to find, it keeps the resources more organized and automates the workflow of submitted form data. Additionally, an Intranet provides a dedicated Human Resources page just for new employees, making it simple for employees to get in contact, request meetings, or ask the department any necessary questions.
Challenge #2: Sufficient Training
It's imperative that new hires are given the proper guidance within their first few days. However, in the fast-moving and unpredictable healthcare industry, anything can happen that will push back training times or make managers unavailable.
How an Intranet Can Help:
An employee portal offers many features to assist with training purposes. Create automated training videos to share with new hires. Since watching isn't the same as doing, schedule course refreshers for both seasoned and new employees to attend. You can send reminders via the portal. If need be, rescheduling takes a simple click. You can even send out a "question of the day" to ensure employees are always in practice and up to speed. Sharing training articles and videos and holding refresher training sessions means employees are well-trained not just during their first week, but throughout their time at the organization. Class schedules and registration activities can all happen right on the portal. No need to send additional materials, everything is stored and can be done with just a few clicks.
Challenge #3: Putting in the time
We get it – you're busy. There's a lot to get done in the day, and it sometimes seems impossible for managers and employees alike to help a new hire, train them, or simply get to know them. However, in an environment where communication and collaboration is key, starting a relationship with new employees is a must.
How an Intranet Can Help:
Get organized. Your intranet contains calendars and scheduling capabilities to sort out your busy schedule. Find the time to schedule a meeting with your new hire a couple of weeks in to see how they are adjusting. Organize an employee luncheon or team building session for people to get to know each other outside of working. All processes that used to be manual are now a zip. Productivity is more efficient and you can reach more employees with your messages much quicker.
Challenge #4: Assimilating to the Culture
With a new role comes new people and an unfamiliar way of doing things. Some people are better than others at navigating a new culture.
How an Intranet Can Help:
An Intranet is the ultimate internal communications tool. New hires will be added to boards and pages dedicated to the departments they are involved with, giving them the opportunity to keep up with news and happenings. Colloboration pages can help new hires join "get-to-know" you groups online. Personal profiles can help new employees learn about their peers. Chat features or forums can allow for two-way communication between new and seasoned staff and they also provide them a platform to ask questions and converse with their new teammates.
For information on HospitalPORTAL products and how we can work with your organization, schedule a free demo or request a quote today.
Find this blog post helpful? Download the PDF version now to keep in your files and refer back to!