The Importance of Internal Marketing in the Healthcare Workplace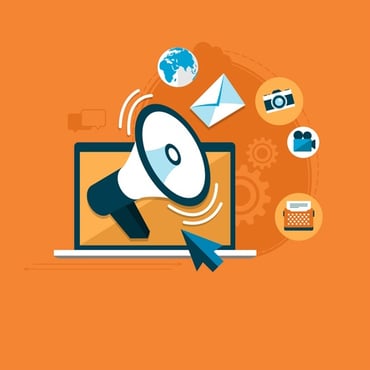 Internal Marketing could be just what your organization needs to create the team you wish it was. When most people think of marketing they see large ads and catchy slogans. Marketers are essentially professional attention getters. This is traditionally used to grab attention from potential clients/customers or patients in the hospital world. Turning this power of a captive audience to your internal needs could be an extremely effective tool to your organization. An Intranet is the perfect tool to start bringing your employees and executive team into collaboration and increase employee engagement.
So, what is internal marketing?
Internal marketing is when an organization focuses on their employees as if they were customers. It is basically inward facing marketing. Marketing meant to influence your employees Instead of trying to influence the public with your brand and message.
What are the benefits?
Marketing to your own organization can create a community. Through the use of an intranet, it is possible to create a better flow of information, increase compliance with policies and procedures, and create a collective brand image in the minds of all who are in your organization. Employee moral will sky rocket as they realize everyone is in it together. Being a part of something bigger than yourself is one of the great human motivators. Harness that motivation to create a stronger team, happier employees, and ultimately happier patients.
How can you improve your internal marketing?
When creating an internal marketing strategy, you need to create messages that will resonate with your employees and cause them to want to help meet specific goals for your hospital. Your goals could be a number of things but creating a unified, more engaged, and well informed team are what we hear most often as the issue. Here are a few ideas on how you could use the tools available to you with an intranet.
1) Design your intranet to include your logo and use colors that represent your brand image. Having a solid brand that is reinforced through your intranet will assist in providing your employees a pride in their workplace. This is a concrete ground for teambuilding and happier employees.
2) Create a tight knit team atmosphere with an internal blog open to executives and management to post on. Let employees post comments or, depending on your size, let employees post. You could also create forums for projects for teams to stay involved and organized. Letting your employees know that you welcome them to be heard changes their mindset to being part of the bigger picture instead of just going with the flow.
3) Publicly recognize your staff. With a tool such as an intranet you are able to communicate to your entire staff quickly and efficiently. Why not use that to boost morale at every chance possible? Employee of the month or a "Kudos Corner" to regularly show off staff that is putting in that extra effort will encourage others to strive to also be recognized. It's a basic human need. Everyone wants to be recognized for a job well done. This is a win-win situation.
This is just a few ideas on what you could do to start thinking about how you "market" yourself to those that make your hospital what it is and stands for every day. If you would like more ideas, please watch this webinar. If you are having trouble with this issue and would like to take the next step to providing an Intranet platform to your staff, we would love to talk to you about our solution HERE.