Tips To Retain Hospital Staff
Hospitals, medical centers, and healthcare organizations incur some of the highest internal costs compared to other industries. That said, they are always on the hunt for innovative ways to reduce their internal costs, tighten their expenditures and minimize healthcare policy changes.
Use your Intranet to Retain Quality Staff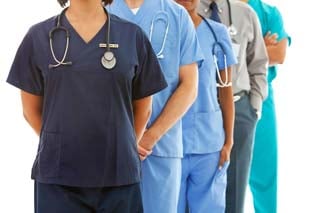 Retaining a highly experienced and already trained hospital staff makes a positive impact on costs. Staff can range from doctors, surgeons, nurses, and even the housekeeping and cleaning department of the hospital. Retaining a skilled workforce will save a hospital thousands of dollars over a period of time. Activities like revitalizing or cleaning up computer equipment for the new staff member, training of new staff, and the potential costs of recruiting can affect a hospital's bottom line.
Here are a few tips on how hospitals can retain their existing staff :
1. Recognize their strengths and call attention to them – employees in general appreciate it when their efforts and hard work are recognized and awarded. Before pointing out flaws and mistakes, make sure to praise and appreciate the strengths of the individuals first. Call attention to their good work and show recognition for their efforts before delivering the areas for improvement. Make sure to thank employees and compliment them in front of others.
Intranet Feature: Kudos corner, personal chat messages
2. Involve existing staff while hiring new staff – taking your existing staff's input and ideas at the time of recruiting or hiring new staff will make them feel needed and valuable. Having meetings to discuss the objectives of the new hire or conducting collaborative career seminars are both great ways to empower your existing staff to be brand ambassadors for the organization and to help them take an active role in the recruitment process.
Intranet feature: Team workspaces, meeting calendar scheduling, conference room booking, brand ambassador program page
3. Strengthen hospital staff policies – hospitals must make sure that their staff is well informed, provided for and well taken care of. Hospital employees, physicians and nurses all want to be sure that they have job security. At the same time, they need adequate and competitive benefits too. Hospitals must provide complete medical insurance or coverage to all their staff and extend benefits to staff family members and dependents as well. Simple but meaningful gestures also ensure high employee retention rates, such as promising parking spaces close to the hospital entrance.
Intranet Feature: Policies and procedures manager, HR benefits pages, read acknowledgement and notice of acceptance, forms and workflows
4. Conduct counseling sessions to motivate employees – hospital staff is often stressed due to the tight deadlines, state and federal mandates for quality care standards, and working with sick patients and/or witnessing death. One amenity for staff would be access to counselors or motivational speakers that can listen to their problems and concerns and provide them some type of emotional strength and support.
Intranet Feature: Online wellness and self-help documents, calendar scheduling for making appointments with counselors, conference room scheduling for group exercises, form wizards to answer questions about state of being
5. Conduct employee team – building activities or cultural programs for the employees – hospital staff need a break from their tough and demanding jobs. Giving them an outlet to express themselves or interact with each other is a great way to promote positive, healthy engagement, which leads to happier employees and ultimately a more productive workforce.
Intranet Feature: Classifieds, recipe sharing, community page, charity support and donation tools
6. Award and recognize staff publically – giving out an 'employee-of-the-month' award is a great way to motivate employees to work harder so they feel like a crucial part of the organization. Post this news on your hospital Intranet so the entire hospital can see the kudos given. Use a forum to recognize departments for handling a crisis or a very sick patient with success. Send out 'thank you' emails to employees on the anniversary date of their employment and wish employees happy birthday. Simple happy birthday notification reminders on your Intranet make it easy for HR or marketing to recognize all birthdays easily.
Intranet Feature: Employee of the month forms, forums, blogs, image scroller graphics