Using An Intranet To Manage And Track Compliance
Part of remaining compliant is creating a culture that fosters learning and awareness. With all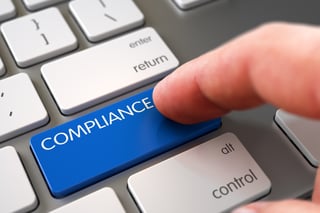 employees on board and in this mindset, your organization has a better chance of detecting risks and putting well-understood plans in place. This can be achieved with strong internal communications through many facets – and your Intranet can assist you in achieving just that.
Here are some ways you can utilize your Intranet to promote a culture of education and awareness while managing and tracking compliance within your organization.
Post blogs
Blogs are an effective way to relay new information in your organizations' voice. Speak to your employees by posting blogs on compliance, like the new technology surrounding it, tips and tricks to remaining compliant, and more.
Post policies
An Intranet is a one-stop-shop for all information, events, updates, and happenings in the workplace. That said, when a policy, plan, or procedure regarding compliance has been added or changed, make sure you notify staff via the Intranet.
Ask for notice of acceptance and read acknowledgements on all updated policies or important content
As content moves through the workflow, ensure the correct eyes are reading it and doing with it what they need to do with read acknowledgements. This adds a layer of security and gives every employee the peace of mind that things are running smoothly.
Use ticket system for reporting incidents
Your Intranet contains a robust ticketing system. That said, if an employee experiences an incident, they can utilize ticketing to report it. This provides staff a quick, easy form of communication while keeping things organized and secure.
Keep a healthcare safety section on the home page
As a way to make compliance a main part of your culture and to maintain open communication lines, keep a safety section right on your homepage for staff to refer to at anytime. It can include current events articles on the topic, educational posts or videos, etc. Be sure to include information on patient safety as well.
Give credit where credit is due
Maintain a kudos corner to acknowledge staff members who have pointed out unsafe environments.
Create confidential manager pages
You have the ability to create pages on your Intranet that only certain staff members have access to. Managers can discuss safety issues, compliance, and resolutions on these pages.
Make forums
Forums are an effective way to allow employees to converse, ask questions, and share ideas. Start forums for discussions on compliance and safety so that workers always have a spot to talk and learn about the topic.
For information on how HospitalPORTAL Intranet or Policy Management System can help you remain compliant, schedule a demo or request a quote now.
Find this blog post helpful? Download the PDF version now to keep in your files and refer back to!