Using an Intranet with an Integrated Policy Management System Brings Great Benefits to a Hospital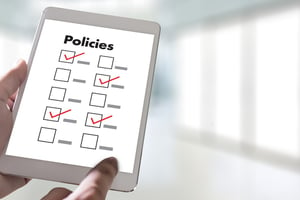 Does this sound familiar?
"We have offices in the United States, EU and APAC and are regulated by Department of Education, Department of HHS, JCAH, DNS, CMS, FDIC, SEC, Fed Reserve, NAIC, FINRA – We are regulated by similar bodies overseas. We have 2 subsidiary businesses as well."
"Our Policies and Procedures reside in a Shared drive, accessible by all. To retrieve documents, we use an Excel spreadsheet with Hyperlinks to locate Word documents. Employees must be on the company. These documents can be unaccountably altered without notification to others."
"All policies are updated by department heads and then sent to one person to manage the updates in each country HQ."
"Previous versions are not stored – alterations are on current versions."
"Our Compliance Executives mandate monthly and quarterly reporting of new policies and Procedural updates from department heads."
"Our compliance regulations are updated annually by the governing body and stored in a single repository for us to benchmark our documents."
These pain points and challenges can be very frustrating and costly. Utilizing an Intranet with a built-in Policy Manager can help alleviate these issues and provide great value in supporting the compliance efforts of your hospital. Here are some features that can assist you:
A single source for all Policies and Procedures stored departmentally against governing bodies and accessible only by Authenticated users and Authors.
Departmental pre-assigned and authenticated Policy/Procedures workflow responsibilities.
Executive oversight of all P&P activity – Views of US, EU and APAC workflow through Single Sign-On Authentication.
Executive and Departmental overview and notifications on upcoming and current revision activity and responsible parties.
Assigned governance for departmental policies to ensure proper pre-assigned workflow, approval and final Publishing – Dates, activities – authenticated roles – Moderator, Author, Expert Reviewer, Approval.
Multiple notification levels to designated document contributors regarding Coming Due, Due, Past Due.
Documents searchable by client assigned keywords or through Bookmarking for actively used procedures.
Policy or Procedure documents linked to related regulatory mandates and information.
All changes to documents require pre-assigned roles and responsibilities with departmental or executive committee final approval. All previous versions stored and all activities viewable by responsible parties until document is retired.
Policy or Procedure documents linked to related regulatory mandates and information.
Intranet to Expand Policies and Procedures Capabilities
Too often we find that a Policies and Procedures Workflow Solution, while effective by itself can be greatly optimized through an Intranet portal. Links to departmental bookmarks, SMS feeds on relevant information, social learning through even multi-national blogging, authorized/authenticated Physician, financial, leadership, and analytics pages can positively affect procedural and content management strategies.
Examples of Departmental Pages Possible Links to a Policy Management System:
What is the Cafeteria Hygiene Policy?
What is our current EEOC Policy? (HR)
Procedure for ER activities (Departmental Page)
Current Procedure for Mortgage approval in Delaware (Sales Page)
Recent Foot and Ankle News and Procedural Bookmarks (Physician Portal)
Recent submissions for CMS qualifications (leadership page)
Intranet for the Tribe
Obviously, the greatest value for any centralized communication system is a sense of "Tribe" – all employees feeling as they are contributing to the greater cause. Having a single source for all things "Your Company" provides a jumping off point for conversation, direction and leadership communication. Policies and Procedures Workflow automation is a necessity, however an Intranet with an integrated Policies and Procedures management system is a below the radar corporate bonding agent if utilized properly.