What You Need To Know About The DOJ Evaluation Of Compliance Programs
Last month, the Department of Justice Fraud Section released an Evaluation of Corporate Compliance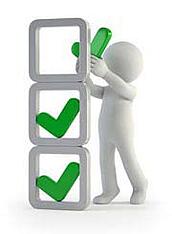 Programs Guide. The guide hones in on 11 topics, providing numerous questions within each topic to be asked while evaluating the compliance of a company. Specifically, the questions are posed in a way to evaluate after something has already fallen through in the compliance program, in an effort to bring things back to standards.
The 11 sections the guide is broken up into are as follows:
Analysis and Remediation of Underlying Conduct
Senior and Middle Management
Autonomy and Resources
Policies and Procedures
Risk Assessment
Training and Communications
Confidential Reporting and Investigation
Incentives and Disciplinary Measures
Continuous Improvement, Periodic Testing and Review
Third Party Management
Mergers & Acquisitions
So, what does this mean for your company moving forward? We know that you already put ample focus on your compliance program. But, here are a few things to refresh and reiterate:
If it isn't already, compliance should be a major part of all decision making. Remaining compliant is extremely important in the healthcare sector. When trying new things or making a decision, it's imperative to consider if it will have effects on your program and what solutions you can present.
Speaking of compliance program, make sure that yours is fully functional, implemented and updated. The DOJ will want to ensure that your plan is being put to use, and not just there as a requirement.
The guide could and should be utilized as a new standard to go off of when updating your program. When it comes to compliance and auditing, it's right to cover all of your bases.
A team can be helpful. When it comes time to working through compliance issues, be they related to policies and procedures, security, etc., designating resourceful leaders on the subject can help to keep your healthcare system on track.
Training and communication are always key factors. Make sure that your employees are regularly educated and updated on all happenings and news regarding compliance in your healthcare organization and beyond.
The information for this article was adapted from Boost and Weily Rein. Check out their articles to learn more. You might also enjoy this article from Compliance & Ethics Blog, a reminder that compliance is about the process and implementing a successful system.
Access the full Evaluation by clicking the button below.
For information on how HospitalPORTAL Intranet or Policy Manager can help you remain compliant, schedule a demo or request a quote now.