Why Content Is Important To Your Healthcare Marketing Efforts
Content is at the epicenter of marketing efforts for your healthcare organization – it is what helps you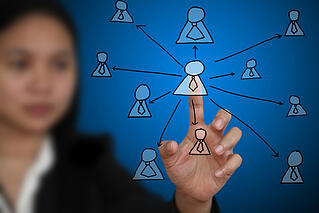 connect with your patients and their families directly. It is important for any healthcare business to have a proper content strategy that allows them to share success stories, general information, expert opinions, case studies, and staff highlights. A successful content strategy considers the audience it's targeting and develops clear messages to address the dynamics of their targeted group.
A post published by Hubspot cites a study by Pew Research that found almost 72% of Internet users searched for health related information in 2015. It also says that healthcare is the second-most searched for service on the Internet. This is one statistic that proves the importance of a proper content marketing strategy for your healthcare organization.
Some things that a healthcare marketer should keep in mind:
Constantly review and update your content: You are in an industry where misinformation, biased commentary, or distasteful dialogue can harm your brand's integrity, therefore, you have to be extremely cautious about what you publish. You need to perform content audits periodically to ensure that your content is being read and well-received. For online content, if your organization uses a CMS website platform, you can easily pull statistics from backend reports showing website visits and page activity. If you don't have a CMS system with these capabilities, you can use third party analytic software like Google Analytics to track visitor activity on your site to gauge readership. For outbound marketing activities or direct mail, include tracking tools or use CTAs connecting print/mail to online landing pages to help track content acceptance. With social platforms, analyze engagement metrics, shares, likes, posts, retweets and so on to determine content effectiveness through your social campaigns.
Align content with your business goals: You can't become an overnight star in the healthcare industry by publishing a couple of articles or making a couple of videos. Clients and customers in the healthcare industry take a long time to establish trust with a healthcare organization, clinic or physician's office. Leverage multiple departments or subject matter experts to help cultivate new content and a variety of messages for your audiences. Know your brand and your organization's philosophy and make sure the content aligns with those business objectives and your organization's mission. You also need to make sure that it is consistent with your other marketing and branding efforts. The more dedicated you are with your content strategy, the sooner you will be seen as a thought leader within your target market.
Create guidelines and content for employees: A healthcare provider should have internal communication guidelines, mission statements and strategy guidance that will inform and educate employees about the content strategy they need to follow. Make it easy on your staff by providing standardized writing policies. It is important to train your writing staff so that everyone understands the importance of SEO and writing content for the digital audience. Use your Intranet as a resource to help to train staff and ensure they have read these publishing and writing guidelines. Share brand standards manuals so terminology and a glossary of accepted terms are understood. Use read acknowledgement tools and notice of acceptance tools from your Intranet to verify your authors have read the information.
Your articles and posts should answer questions: As a content strategist, you will have to remember that most people look for health related information to find answers to their questions. So, you will have to make sure that every piece of content addresses a specific question and provides a solution. Write with a purpose.
Create a content plan: To be successful content strategist, healthcare marketers should have in place a content marketing plan and editorial calendar to organize messages and outreach. Producing random, unrelated content or repeated messaging can do more harm than good for your organization. Have a vision for your content when writing and distributing your messages.
Create more videos: Videos are one of the most popular forms of content. Starting a video marketing program can seem daunting at first, but there are a great deal of online resources to help you build your video portfolio simply and easily. No need to create 100 videos day one, give yourself realistic expectations of deliverables. Start out with developing videos quarterly and then build up to one video a month. Reach out to your doctors, clinics or community businesses to contribute to your videos by sharing their own stories.
A proper content strategy will not only help in connecting with the audience, but it will have a direct impact on the bottom line. We have heard this enough time, but "content is king." A customer often evaluates a healthcare provider based on the content that they produce…better content should translate to an increase in lead generation and client retention. Empower your audience with great content today!
For information on HospitalPortal.net products and how we can work with your organization, schedule a free demo or request a quote today.